Garment packaging industry resources
Paul Brownhill, chief executive of Britannia, shares his vision for the future of the business and the garment packaging industry. He explains how Britannia can help retailers meet the challenges of fast fashion, global sourcing and ethical compliance.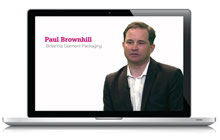 The Big Book of Britannia Garment Packaging is a guide to our business: where we came from, where we are now, and where we're heading to. It explains our strategy for success and our commitment to first-class customer service.